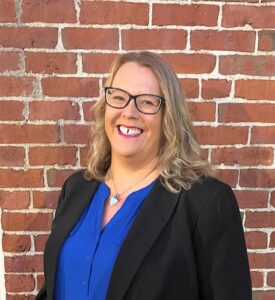 Bread and Roses Housing Inc is thrilled to announce that Annmary Connor will become our new executive director on October 11th, 2022.
When we launched our Executive Director search earlier this summer, we set out to find a visionary and dynamic leader who could build on our previous successes, continue Bread and Roses Housing's important work on affordable homeownership, and lead our efforts to increase our impact in the greater Merrimack Valley community. We sought someone with leadership experience in moving affordable housing and social services teams towards systemic change, with demonstrated commitment and deep connections in the communities we serve, and with the management skills to tap into our extraordinary staff and Board members. Ms. Connor brings all of this and more. We're so excited for her to apply her passion, strong community engagement, and solid experience as she steps into this role.
Annmary Connor is a Social Worker who was born and raised on the North Shore of Boston. Growing up she was taught the value of family, community and service. Ms. Connor attended Fitchburg State College where she received her Bachelor of Science in Human Services. Annmary later moved to New Mexico where she attended New Mexico State University and received her Master in Social Work with a focus on Family Preservation.
Annmary has worked in the social services field for her entire professional career. Through her work, she identified a passion for equality and recognized the gap in affordable housing to combat oppression. She served on the YWCA of Greater Newburyport Board of Directors for six years, two of which as Board President, and was part of the affordable housing expansion. In her last role as the Division Director of Social Services at the Greater Lawrence Community Action Council, Inc (GLCAC) Annmary considerably expanded the organization's housing services footprint. She also led the teams and programs for Housing and Homelessness, the Child Abuse Prevention Program, the Community Service center, and SNAP. Among her accomplishments in this role, Ms. Connor programmed the rapid expansion of housing programs during the COVID-19 pandemic and executed a $1.5 million Emergency Solutions Grant for households in Lawrence. Earlier in her tenure at GLCAC, she developed grants to support a housing initiative in support of the communities impacted by the 2018 Columbia gas explosion.
Annmary shared with us about her appointment:
"I am honored to be selected as the next Executive Director of Bread and Roses Housing. The legacy of Mary Marra and Yesenia Gil has made life-altering positive impacts on over fifty families in the Merrimack Valley who have become homeowners, thus building generational wealth. It is in their spirit that I will continue to broaden the impact of Bread and Roses Housing through building community, one home, one family at a time."